Keep up with me bros. The Napa 6.0 earthquake was 3.5 weeks ago on August 24. Now reporting! Buy your pape! Second cycle news for a penny!
If you live in the Bay Area, you probably felt it at 3:20 a.m., you probably woke up, your baby probably didn't, your pet probably freaked out and ran away. That's the general report.
We woke up and rode it out for ~15 seconds, and like a lot of people my first thought was, "that was scary. I wonder if it was worse somewhere else?"
So I got on the internet, and quickly learned it was worse somewhere else, and that somewhere was Napa, where half my family and friends live.
I wasn't very worried, and in fact my greater worry was that I would wake up my parents/sister if I called them. Maybe they slept through it?
I texted my mom to be safe. It wasn't until an hour or so later (4:15 a.m.?) that I finally got any communication from Napa. Everyone's electricity was out (no land lines) and following disasters, cell phone reception is chaotic, as we all know.
Once I spoke with my mom, I pounced into rescue/panic mode. She sounded shaken up and scared, and I could tell from her muffled background conversation with my dad that she was being patched up from some injuries (my dad is a retired M.D.)
The earthquake was so powerful and so
loud
, that everything possible (even heavy furniture like dressers and a grandfather clock) was tipped on the ground, and they didn't hear it crashing down amidst the sounds of the earth cracking. My mom got straight out of bed in the blackness afterwards only to trip over furniture and step on broken glass. She was bruised and sliced.
We drove straight to Napa to help my parents however needed. When we got there at 5:30 a.m. it was still dark and hard to be very useful. We starting cleaning as the sun rose, and I didn't think to take any pictures until most of the cleaning had been done. Suffice to say we filled a truck bed full of broken glass and other dead items.
Every room looked like the one below (but add glass). My mom inherited and owned a lot of fragile items, including french vases that apparently were worth enough to pay off a decent chunk of law school loans. Information that would have been useful YESTERDAY! (kidding).
Napping dresser
On our drive up, in the dark, we were (stupidly) so confused why we kept hitting bumps and ruts in the roads. I was like, "huh, when and why'd Napa put a sharp speed bump there?" My parents live in a part of Napa that was hit hardest by the quake, due to the location of the fault line. The roads were a buckled mess.
Unfortunately we had to jet out of Napa by 10:00 a.m. because it was the Gentleman's birthday and we had scheduled a tie-dye making party with some friends and their kids to celebrate.
And also for his birthday we had booked some fancy A's tickets.
....And we even wore gloves during the tie-dye
We lost, but I was too busy staring at Jack White a few rows down to really care. He was in town for an SF performance.
Jack looked way happier that night than he did at the Cubs game. He must be an A's fan.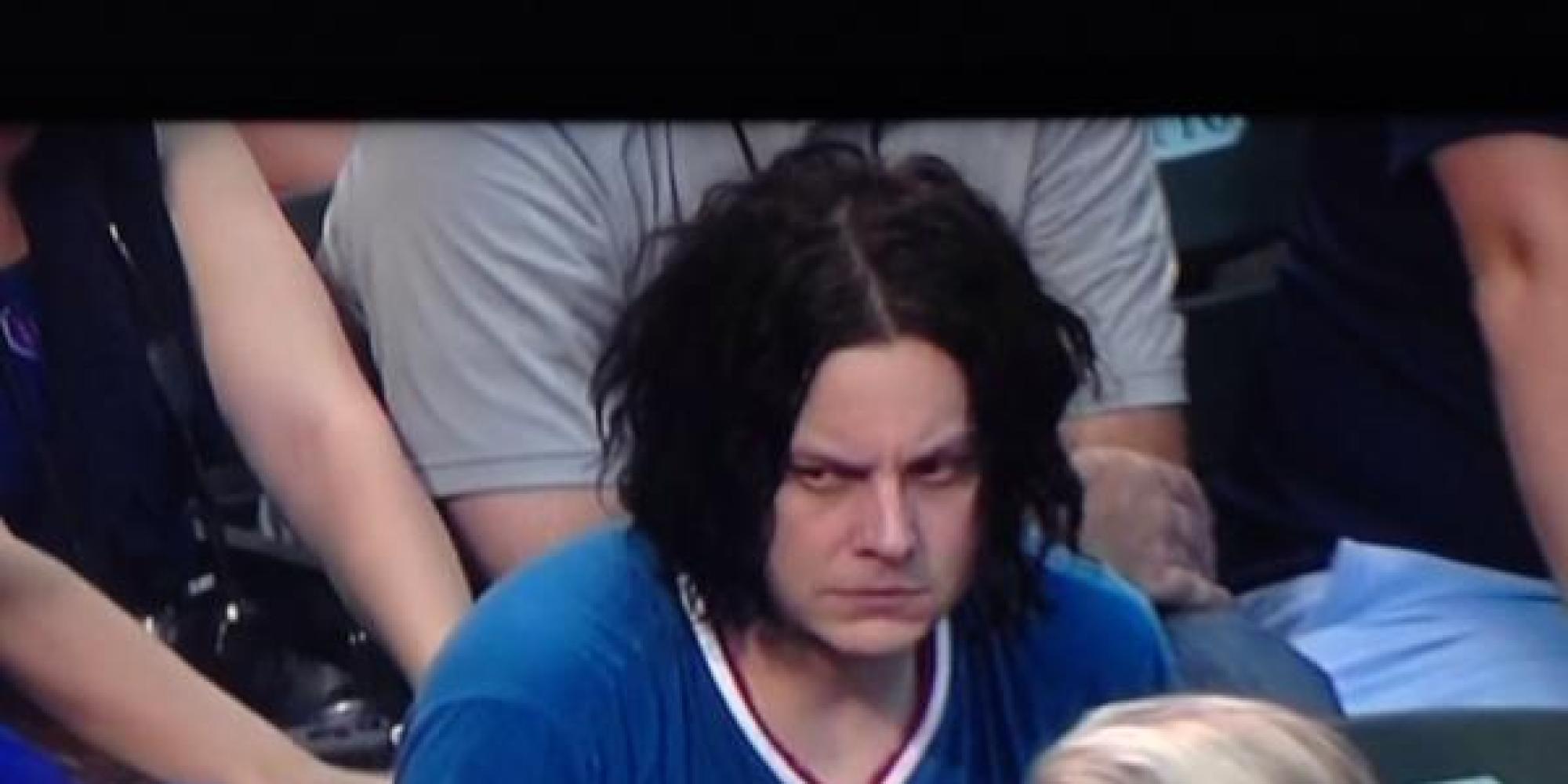 Real picture
Earthquake day was not only the Gentleman's b-day, it was our one-year wedding anniversary. We won't normally celebrate our marriage on this date (since it's his b-day, duh) but this year we had the chance to celebrate by staying at the Claremont, which is where we stayed during our wedding. The hotel treated us (long story short: over a complaint I made about our stay last year), and I got a kick out of seeing "Mr. Connell" everywhere since I booked the rooms. You see, this is an error because we both kept our own last names. But surely one day I'll convince him to change his to Mr. Connell ;)
The weekend after the earthquake I snuck back to Napa for a run. 16 miles. I never run with my phone, never ever, because I love testing fate and being unsafe (no phone, no road i.d., no money, no planned route.) I've begged strangers for water before, that's how stupid I roll.
Running with a phone in hand was not fun (sweaty and slippery!) but I did capture what I intended--the earthquake impact to downtown Napa and my parents' hood.
The sidewalks were snapped in half. The City pounced on fixing roads, but no time yet for the sidewalks.
There were also a number of red-tagged homes that were visibly crooked. Melting. Poor things.
And a lot of missing chimneys. Brick. Not so sturdy.
A chimney used to be there
The Napa civil courthouse, where I interned after my first year of law school
Where there is a courthouse, there is a Bail Bonds business
On the bright side, while in Napa I got to see these cute faces
The end. I'll talk about running some other time.